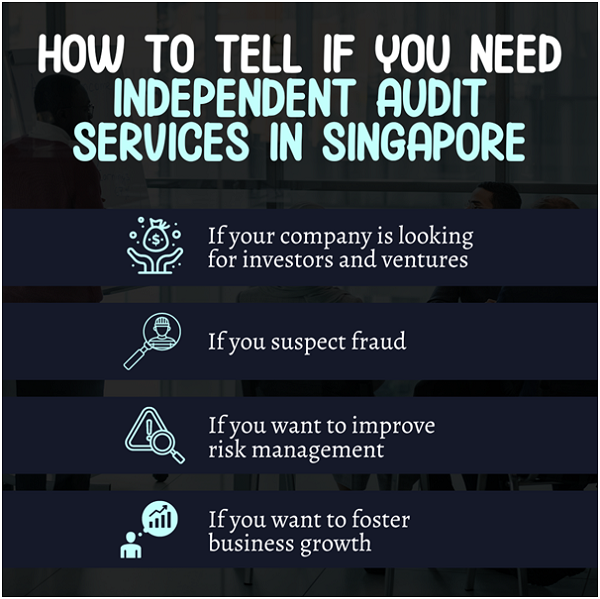 Audit services in Singapore are the most common financial-related services companies have. It can be in-house or outsourced. In-house auditors are auditors that the company hires and exclusively work for the company. Meanwhile, outsourced audit services are third-party companies that provide audit services to other businesses. Both audit services work independently.
But the question is, how will you know if your company needs an independent audit service in Singapore?
1. IF YOUR COMPANY IS LOOKING FOR INVESTORS AND VENTURES
Part of growing a company is looking for ventures and investors willing to finance your business. At the end of investors, they want to guarantee that the money they will invest will be used and utilised properly. How can they guarantee it? Through audit.
The audit ensures accurate full disclosure of a company's financial statement. Audit reports show the outstanding debt, annual expenditures, and profits of the company. Many investors and ventures require companies to provide audit reports, so after getting your Market Readiness Assistance or MRA grant in Singapore, ensure you have an independent audit service in place.
2. IF YOU SUSPECT FRAUD
Getting audit services in Singapore is another way to guard the cash that flows in and out of the company. Fraud happens when the stealing of funds goes undetected due to false claims and reimbursements of funds.
Auditing can detect these issues, preventing fraud inside the organisation. If you suspect an inside job and fraudulent acts in the company, hire an auditing team.
3. IF YOU WANT TO IMPROVE RISK MANAGEMENT
Companies face all types of risks each day. More than the common business risks, such as market risks and operational risks, organisations must also consider environmental, economical, and geopolitical risks.
Audit services in Singapore help mitigate risks by understanding the key risks that threaten organisations, identifying the possible implications of these risks, and formulating more informed risk-taking and decision-making. All of these are possible with accurate audit reports.
4. IF YOU WANT TO FOSTER BUSINESS GROWTH
Combining the first three items will lead to business growth. Going into ventures and attracting investors are somehow ways to expand your business.
Additionally, detecting fraud means you get to save that could have gone to the pockets of fraudsters. It means that you can truly utilise the funds and profits you have.
Furthermore, reducing risks means keeping your company afloat, especially during the trying times and rigid economy.
There is no business too small or big for audit services in Singapore. If you notice these signs, you better find an audit service or hire your in-house auditors.
Paul Hype Page & Co provides audit services in Singapore. Visit Paul Hype Page & Co today.