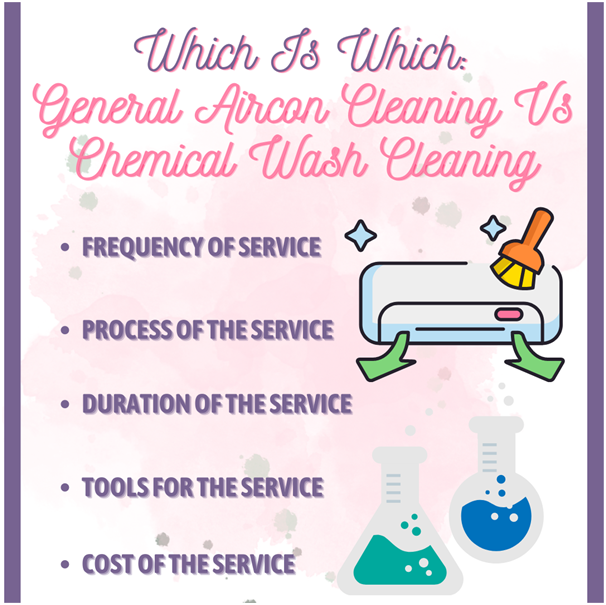 Most people are still not familiar with aircon chemical cleaning. They still choose aircon general servicing rather than chemical cleaning called chemical overhaul. Today, there are various aircon cleaning service types available in the aircon cleaning industry, but these two are what people frequently choose among the rest.
If you are confused about the differences between aircon chemical and general cleaning, read further.
GENERAL AIRCON CLEANING VS CHEMICAL OVERHAUL
FREQUENCY OF SERVICE 
It is advisable to request general aircon cleaning every one to three months, while aircon chemical cleaning should be every six to eight months.
PROCESS OF THE SERVICE
Aircon general servicinguses lesser technical knowledge as there is no need to detach other components from the fan coil. Aircon chemical cleaning requires highly-skilled specialists who can remove certain parts from the fan coil and reassemble everything back to the unit.
DURATION OF THE SERVICE
Aircon general servicingis convenient, easy to do, and lasts 20 to 30 minutes. It is different from aircon chemical cleaning, as it requires at least two to three technicians to remove all components and clean the unit, which takes 45 minutes to one hour.
TOOLS FOR THE SERVICE
Mechanics performing general servicingonly needs a brush and water to clean the unit. As for aircon chemical cleaning,it requiresthe use of a vacuum, brush, water, dry cloth, and chemical solutions, such as acidic or alkaline-based cleaners.
COST OF THE SERVICE
Generally, the aircon chemical wash price is much pricier compared to the general aircon cleaning. Chemical overhauls are five times costlier than general cleaning.
Whether you opt for an aircon general servicing or aircon chemical cleaning, cleaning your aircon unit is essential. A clean air conditioner can also improve the airflow and boost the temperature within your house. Also, a well-maintained and cleaned AC can reduce the chances of getting an aircon repair in Singapore.
To get aircon general servicing or chemical overhaul, you can visit and contact Coldway Aircon Service Singapore on their website!